The Best Christmas Gift Ideas: Top 43 Picks
Last Updated: November 21, 2023
Share to social media
The ho-ho holidays are just around the corner, and it's almost time to list Christmas gift ideas for your loved ones.
And if you're still unsure what to put under the tree for the upcoming gift-giving occasion, don't worry, we've got you covered.
There's no need to fret about finding the ideal gifts. We've explored the corners of the holiday wonderland to bring you a handpicked selection of the most incredible gift ideas.
What's even more fun is that you can infuse your gifts with a personal touch by including a video greeting card.
So, sit back, relax, and dive into this guide for holiday gift inspirations.
Why do we give gifts on Christmas Day?
Giving gifts on Christmas Day is a custom that goes hand in hand with the spirit of generosity and togetherness during the festive season.
The popularity of gift-giving on Christmas is also closely linked to the evolution of the iconic figure we know as Santa Claus.
Dutch settlers who ventured to North America carried tales of a beloved saint known as St. Nicholas, or "Sinterklaas," to them.
Over time, St. Nicholas became Santa Claus, and his tradition of delivering presents evolved from St. Nicholas's Day to Christmas Eve, aligning perfectly with the festive season.
Ideal Christmas gifts for family
When it comes to gift-giving, family always holds a special place in our hearts.
They have been there through thick and thin, supporting us and making cherished memories.
So, why not express your love and gratitude with thoughtful presents that genuinely capture the essence of your bond?
Here's a curated selection of Christmas gift ideas perfect for your family members, from parents to siblings and the little ones:
1. Custom family portrait
A beautifully crafted family portrait, customized to feature your loved ones, can be a heartwarming addition to your home decor.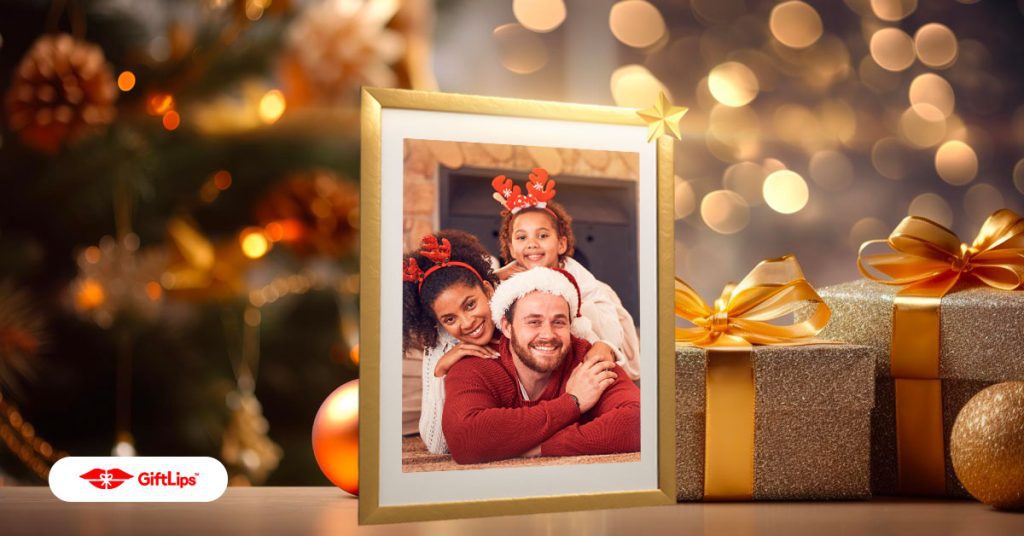 This artistic masterpiece captures the essence of your family, portraying each member with precision and care.
It's a sentimental keepsake that reminds everyone of the strong family ties that bind you together.
2. Handmade family recipe book
Compile all those cherished family recipes into a handmade cookbook, a culinary heirloom to pass down through generations.
Handwritten recipes fill each page, bearing traces of history and love splattered across them.
Whether it's Grandma's secret apple pie or Dad's famous chili, these recipes taste your family's heritage.
This thoughtful gift preserves the flavors and traditions that make your family unique.
It's not just a cookbook; it's a time capsule of tastes and stories, a treasure trove of culinary creativity that connects the generations.
3. Movie night gift basket
Create a cozy movie night at home with a gift basket filled with popcorn, favorite snacks, and a selection of family-friendly films.
The basket is a treasure trove of cinematic joy, including classics that take you down memory lane and new releases that promise entertainment.
It's an excellent way to spend quality time together and create lasting memories.
Picture snuggling up on the couch, laughter echoing through the room, and the magic of the silver screen bringing you all closer.
4. Customized family name sign
A custom-made family name sign is a creative holiday present that can add a personal touch to your living space and celebrate your family's uniqueness.
Crafted from wood, metal, or another material of your choice, it proudly displays your family name and perhaps a special message.
It's a decorative piece that blends seamlessly with your home decor.
5. Board games galore
A collection of classic and modern board games is a fantastic way to bond and have fun during family game nights.
These games promise endless entertainment, from Monopoly and Scrabble to contemporary favorites like Codenames and Ticket to Ride.
Games foster laughter, competition, and togetherness. They provide a platform for friendly rivalries, strategizing, and moments of triumph and defeat, all in the name of family bonding.
6. Family photo album
A meticulously crafted photo album with your favorite family moments preserves and shares your collective history.
The album is a visual journey through the years, from baby's first steps to holiday celebrations, encapsulated in carefully arranged photos.
It's a timeless gift filled with nostalgia. Flipping through these pages allows you to relive cherished moments and share them with future generations.
7. Matching family pajamas
Get everyone cozy with matching family pajama sets, perfect for creating unforgettable holiday photos.
These comfy, coordinated sets add a touch of whimsy to your family gatherings and holiday traditions.
It adds a fun and festive touch to your family gatherings. Wearing matching pajamas is not just about comfort; it's about coming together in a fun and lighthearted way that creates lasting memories.
8. Family adventure experience
Plan an adventurous day like a nature hike, theme park visit, or picnic, offering a memorable family experience.
Whether exploring the great outdoors, thrilling rides, or a serene day in the park, this adventure brings your family closer to nature and each other.

It strengthens family bonds and creates exciting memories. These experiences foster teamwork, shared laughter, and a sense of adventure you'll treasure for years.
9. Spa Day gift certificates
Treat your parents or partner to a relaxing spa day where they can unwind and rejuvenate.
These gift certificates provide a day of pampering in a serene spa environment, from massages to facials.
Show your appreciation for their hard work and love. A spa day is a luxurious way to express gratitude and offer a well-deserved break from the hustle and bustle of daily life.
10. Educational toys for kids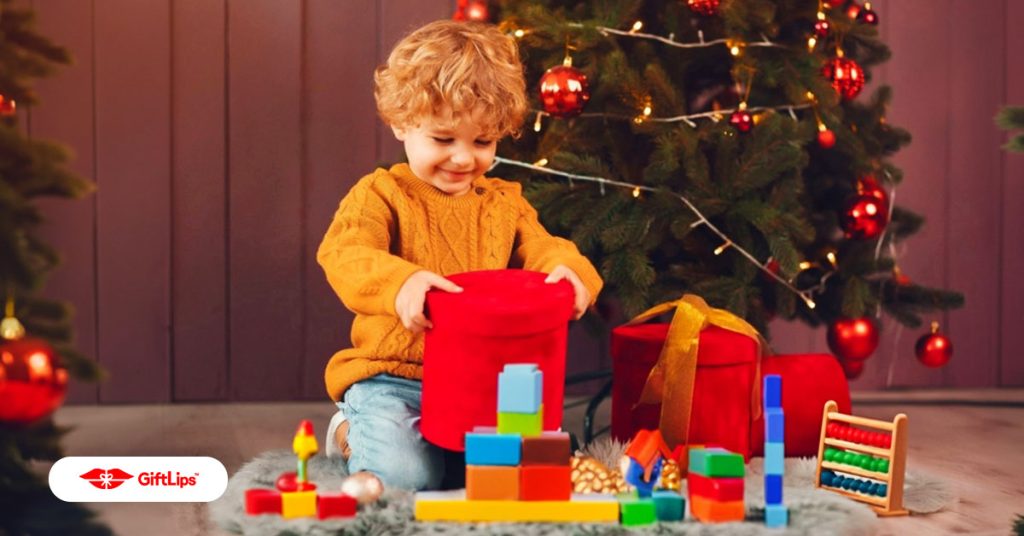 Invest in educational toys that combine fun and learning for the kids in your family. From building blocks to interactive science kits, these toys playfully spark curiosity and development.
It's a thoughtful way to support their development. Educational toys stimulate young minds, encourage creativity, and provide family play and learning session opportunities.
Holiday romantic gift suggestions to make hearts melt
Ah, love is in the air! The holiday season isn't just about spreading cheer to family and friends—it's also the perfect time to celebrate the deep and special bond you share with your significant other.
Whether in the early stages of a blossoming romance or basking in years of cherished togetherness, a heartfelt gift can speak volumes about your love and devotion.
Check out this special list of heartwarming and romantic gift ideas:
1. Personalized love letters
Create handwritten letters that eloquently express your deepest feelings.
These carefully penned words are bound within a beautifully designed journal, creating a keepsake of your love.
2. Star map of a special date
Commemorate a date with a special place in your heart, perhaps your first date or anniversary.
A custom star map will artfully depict the alignment of the stars on that significant night, an intimate celestial snapshot of your love story.
3. Couples' cooking class
Embark on a culinary adventure together, a hands-on cooking class designed just for the two of you. This delightful experience adds a dash of shared flavor to your relationship.
4. Memory jar of love notes
Fill a jar with handwritten notes that recall cherished moments, inside jokes, and why you love each other. Opening these notes in the coming days is a heartwarming reminder of your bond.
5. Weekend getaway kit
Create a kit that holds the essentials for a spontaneous weekend getaway.
From a detailed map of a location you've longed to explore to carefully selected snacks and a heartfelt note, this kit fuels your wanderlust and romance.
6. Hand-drawn portrait of your love story
Commission an artist to create a hand-drawn illustration that captures the key moments in your relationship.
These intricate sketches reflect your unique journey and the intricacies of your love.
7. Customized soundwave art
Turn the words "I love you" in your voice into a visually stunning piece of art. This unique and personal touch allows you to see and hear your love.
8. A love book
Create a personalized book that tells the story of your love, complete with beautifully drawn illustrations and captions that reflect your journey together. It's a tale of love unique to you.
9. Moon phase necklace
Gift a necklace that features the moon phase of a significant date in your relationship. The moon is a celestial witness to your love, and this necklace keeps that moment close to your heart.
10. Name a star after them
Name a star in the celestial sky after your partner to symbolize your boundless love. It's a gesture that immortalizes your love in the cosmos.
11. DIY love coupons
Craft a set of customizable love coupons that offer special favors and thoughtful gestures tailored to your partner's desires. Each coupon is an expression of love waiting to be redeemed.
12. Engraved love lock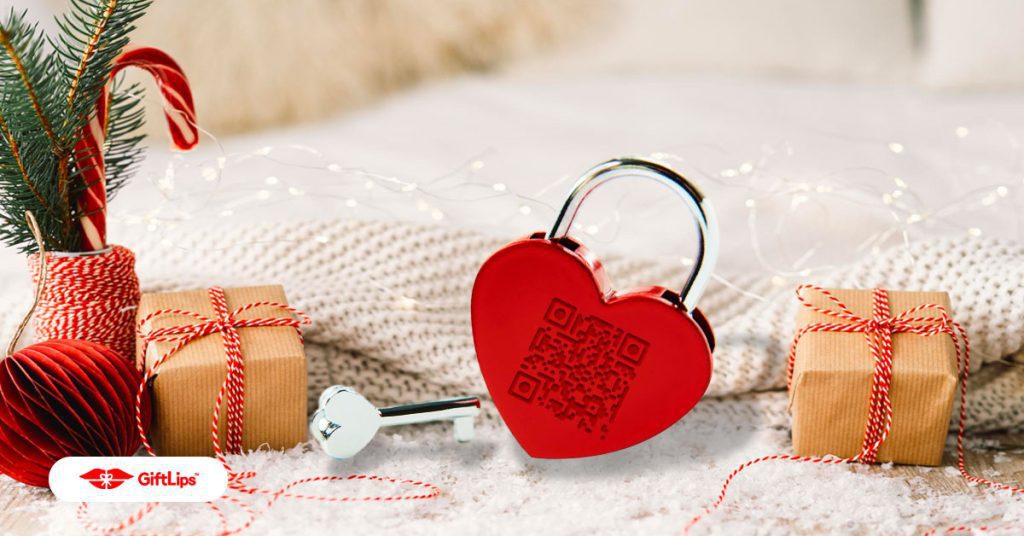 Declare your love in a tangible and innovative manner by gifting a love lock with an engraved QR code that encapsulates cherished memories, messages, or a heartfelt video message.
It's a romantic keepsake, firmly affixed and eternally treasured, adding more meaning to your declaration of love.
13. Stargazing date night
Plan a cozy night under the stars, with blankets to snuggle in, cups of hot cocoa to warm your hands, and a telescope for two.
It's a date night under a celestial canopy, a reminder of the vastness of the universe and the unique place your love holds within it.
Creative holiday DIY presents
Choosing to create personalized or DIY gifts is a gesture of genuine thoughtfulness.
It goes beyond the store-bought and often generic presents, uniquely expressing your love and appreciation.
Here's how you can showcase your creative side and put your heart into your gift-giving:
1. Hand-painted pottery
The art of hand-painting pottery is a creative and tactile way to express your affection. The resulting piece of hand-painted pottery is not just an object but a work of art they can enjoy and admire daily.
To create a hand-painted pottery item, you'll begin with a blank canvas—a plain mug, plate, or vase.
Here, you can let your artistic talents shine. Your unique design can take inspiration from the recipient's interests, favorite colors, or simply your imagination.
2. Personalized jewelry
Jewelry, when personalized, becomes an intimate and wearable symbol of your love and thoughtfulness. It's a gift that can be cherished daily, whether a necklace, bracelet, or ring.
It might feature the recipient's name, initials, or a significant date that holds meaning for both of you.
This personalization transforms a beautiful piece of jewelry into a wearable reminder of your thoughtfulness and affection.
3. Homemade candles
Candles can uniquely set the mood and create a comforting atmosphere. When homemade, they carry an extra layer of personal meaning and care.
To make homemade candles, you'll select scents matching the recipient's preferences, whether the calming scent of lavender or the refreshing citrus aroma.
Consider adding a label or engraving with a personal message for that added personal touch.
4. Knitted or crocheted items
Handcrafting cozy scarves, blankets, or mittens keeps your loved ones warm and envelops them in a hug of your care.
Knitting or crocheting requires time, patience, and love. You're weaving your affection into the fabric as you craft each stitch.
These handcrafted items are not just practical; they're reminders of your care and warmth.
5. Customized wall art
Art has the power to transform a space and evoke emotions. When you design and create unique wall art, you share your artistic expression and brighten their environment.
Wall art can take various forms, whether it's a painting, a decorative sign, or a photo collage. You can take inspiration from the recipient's tastes or a theme that holds meaning to them.
Perfect gifts for coworkers
Choosing the perfect gift for co-workers can be a delightful way to express appreciation and strengthen workplace relationships.
Here's a list of thoughtful holiday gift suggestions for colleagues that will spread holiday cheer and fit various budgets:
1. Desk plants
Imagine their workspace coming alive with a small potted plant or a resilient succulent.
These vibrant additions not only brighten up their desk but also infuse a touch of nature indoors.
As your co-worker tends to their green companion, watching it grow and thrive, they're reminded of your thoughtful gesture day by day.
These desk plants are gifts that keep on giving, nurturing both the workspace and the bond between colleagues.
2. Customized office supplies
Personalized office supplies are a delightful way to add a unique and personal touch to your colleagues' work tools.
Be it a pen with their name elegantly engraved, a notebook adorned with a motivational quote, or a mousepad featuring a funny office-themed image, these customized items transform the mundane into something special.
3. Gourmet coffee or tea
For the caffeine enthusiasts in your office, there's no greater delight than receiving a selection of gourmet coffee beans or high-quality tea.
It's a daily dose of indulgence, transforming their everyday coffee break into a luxurious ritual.
They'll appreciate the rich flavors and your thoughtful gesture with each sip.
4. Cozy office accessories
Wrap a bunch of comfortable presents into the domain of Christmas gift basket ideas.
Whether it's a warm, fleece blanket to drape over their chair during chilly office hours or a stylish desk organizer to keep their workspace tidy, cozy office accessories are gifts that bring comfort and organization. 
They create an inviting and efficient workspace, making the daily grind pleasant.
5. Scented candles
A fragrant candle is more than just a gift; it's an opportunity to create a calming atmosphere in the office.
Opt for subtle scents that won't overwhelm the workspace but will instead offer a gentle, soothing ambiance.
As your co-worker lights the candle and lets its scent fill the air, it's a moment of tranquility and relaxation, courtesy of your considerate gift.
6. Customized tumbler or mug
Picture your co-worker sipping their morning coffee from a personalized tumbler or coffee mug featuring their name or a funny quote.
It's not just about the beverage; it's about making their daily coffee break a little more enjoyable.
Your gift brings style and a personal touch to their morning routine, connecting your thoughtfulness and their cherished coffee moments.
7. Holiday treats
Sometimes, the best way to spread holiday cheer is with a box of delicious cookies, chocolates, or other delightful treats.
It's a sweet gesture that captures the essence of the season. The moment your co-worker opens the box and indulges in these delectable delights, they'll feel the warmth of the holidays and the sweetness of your appreciation.
8. Desk games
Small games like desktop puzzles or stress-relieving toys are gifts that offer more than just fun distractions during breaks.
They provide a moment of stress relief and relaxation, adding a touch of playfulness to the workday.
9. Motivational books
Books with motivational or inspirational themes are thoughtful gifts that can inspire and uplift your co-workers.
These books provide moments of reflection and personal growth, making them valuable additions to the office library.
10. Gift cards
When in doubt or when you want to give your colleagues the freedom to choose, a gift card to Starbucks, Sephora, or even Amazon is always a practical and appreciated option.
Giving gift cards allows your co-workers to select something they genuinely enjoy, making your gift a guarantee of satisfaction.
Whether it's a cup of their favorite coffee or their favorite makeup brand, your colleagues will appreciate the thought behind the gift card.
Gadget and digital gift options
Tech gifts create connections, elevate convenience, and offer a fresh perspective on gifting.
Check out the list below to discover the perfect gadget or digital gift to make your next occasion unforgettable:
1. Personalized video greeting cards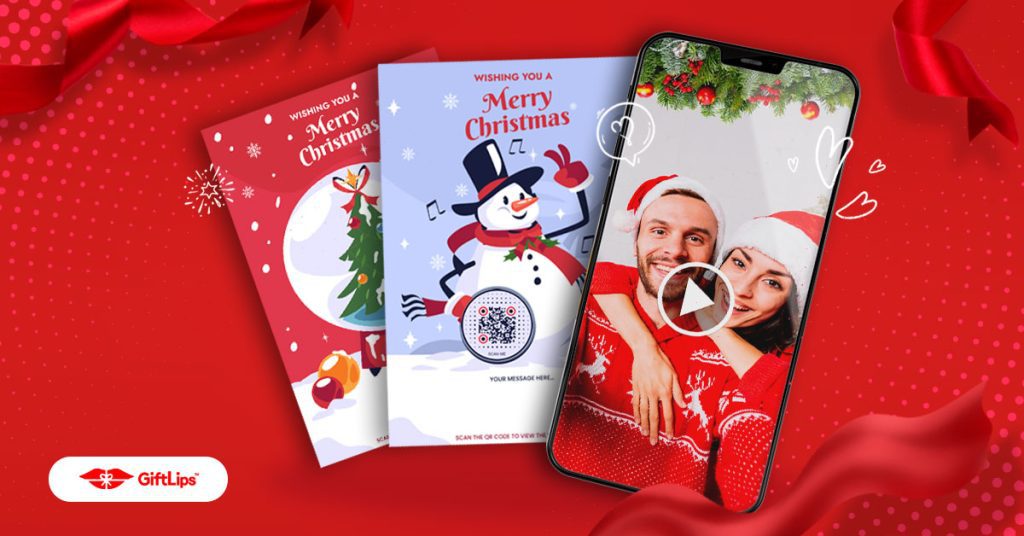 Bridge the physical gap between you and your loved ones by turning a simple card into a cherished keepsake using the best greeting card generator online.
A personalized video greeting card combines cutting-edge technology with the emotional warmth of a handwritten note.
Your video plays when they open the card, creating a heartwarming and personalized greeting experience.
With just a few clicks, you'll craft a customized greeting card featuring a QR code, making your Christmas gift ideas stand out in a way that sets you apart from the crowd.
2. Wireless earbuds
For the enthusiasts of music, podcasts, and on-the-go audio entertainment, a pair of high-quality wireless earbuds is a delightful gift.
These earbuds offer the freedom of movement without the hassle of tangled wires.
With long battery life and a compact design, they are the ideal companions for daily commutes, workouts, and moments of relaxation, bringing a symphony of sound to every moment.
3. Smart home devices
Smart home devices are one of the most popular Christmas gifts this 2023. These gadgets seamlessly integrate into your daily routine, making life more efficient and enjoyable.
Choose from voice-activated assistants like Amazon Echo and Google Home that respond to your every command to Smart thermostats that learn your temperature preferences and adapt to your daily schedule.
Whether you want to simplify your routine, stay connected, or create a more comfortable home environment, smart home devices offer a taste of the future at your fingertips.
4. Digital art frames
Elevate the art of gifting by presenting a digital art frame that transforms the concept of traditional artwork.
These frames serve as dynamic canvases for an ever-changing collection of artworks. The frame rotates through these artworks, creating a gallery-worthy display in your home.
It's a gift that allows art lovers to curate their museum, changing the ambiance of their space at will and immersing themselves in the world of art in the comfort of their home.
5. Virtual reality (VR) headsets
For those passionate about technology and gaming, a VR headset opens up a world of immersive experiences.
These devices transport users to virtual worlds to explore, create, and engage in thrilling adventures.
The possibilities are limitless, from games that make you feel like you're part of the action to virtual tours that let you wander through exotic locales.
It's a gift that offers a ticket to limitless imagination and enjoyment.
Make your gift-giving memorable with a video greeting card
The joy of giving remains, but the options have expanded, creating a delightful intersection of technology and heartfelt sentiments.
As we wrap up our journey through the world of thoughtful gift ideas, it's clear that the art of gifting has evolved.

To add a personal touch to your greetings, don't forget to use the free video greeting card generator online tool—GiftLips.
In just a few clicks, you can craft a greeting card that stands out in the world of Christmas gift ideas.
Customize your greeting card with GiftLips today and add it to your Christmas presents.
FAQs
What is the most popular gift to give on Christmas?
The most popular gift to give on Christmas varies over time and across different cultures. Still, some timeless and consistently well-received Christmas gifts include:
Gift cards: Gift cards allow recipients to choose what they truly desire.
Personalized gifts: Customized presents, like monogrammed items or engraved jewelry, add a thoughtful touch.
Electronics: Gadgets, smartphones, or gaming consoles often reach the top of many wish lists.
Toys: Toys and games related to popular franchises or the latest trends are classic choices for children.
Books: Thoughtful readers appreciate books, especially bestsellers or literature tailored to their interests.
Home Decor: Seasonal decorations, candles, or stylish home accessories enhance the holiday spirit.
Fashion and Accessories: Clothing, scarves, handbags, and designer accessories appeal to fashion enthusiasts.
Experiences: Gift experiences, such as spa days, concert tickets, or travel vouchers, offer memorable adventures.
What is the greatest gift you can give someone?
The greatest gift one can give someone is often not a tangible item but an act of genuine care and love.
You can offer a listening ear or kind words that strengthen the bonds between people and enrich their lives meaningfully.
Share to social media