How to Create and Send a Video Card: The Best Way to Greet Someone
Last Updated: August 30, 2023
Share to social media
Send a video card to greet your loved ones on their birthdays, anniversaries, graduations, and other special occasions and milestones.
Gifts alone are great, but adding a card can make even the simplest gifts special and unique. Adding a delightful twist—like videos and voice messages—to your greeting card shows sincere and genuine effort.
The best way to greet someone is by sending them a gift with a personalized greeting card. And with GiftLips, making something personal and thoughtful doesn't have to take much time.
You can make a greeting card with videos for your recipient and add value to your gifts in less than 5 minutes! Find out everything you need to know in this article.
Two ways to send a video as a card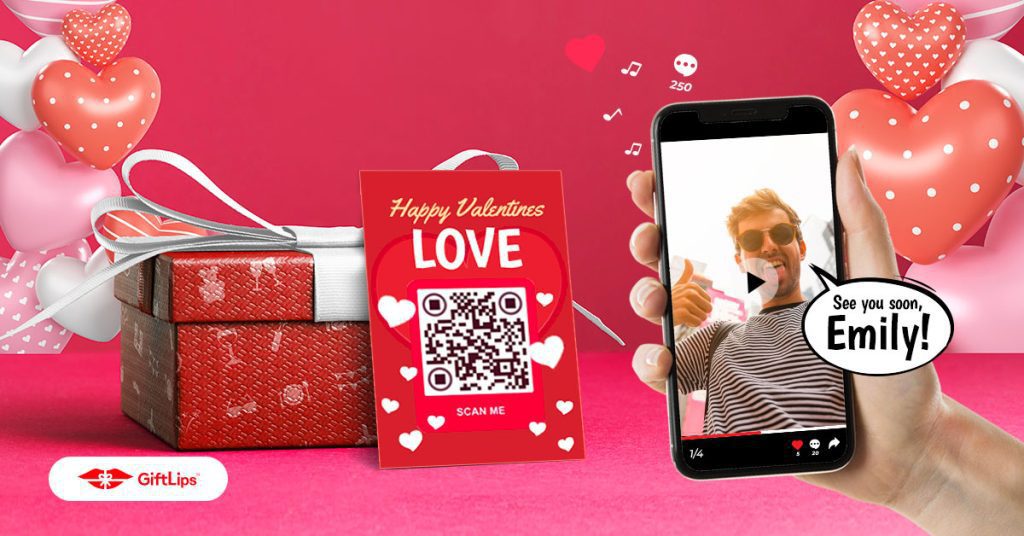 Sending your video messages as a greeting card is as easy as making them. You can send your customized video greeting card in two ways: online as an e-card or offline as a cardstock greeting card.
1. Send your videos as a printed video greeting card
Remember the days when opening the mailbox to see a Valentine's Day greeting card and gifts brought you an unexplainable rush of joy? How the words on the paper and the presents capture emotions and connect hearts from miles away was simply magical.
As technology evolved, card greetings were often reduced to a few lines of text or emojis, making them detached and insincere.
But what if you could relive the magic of receiving an actual card and bring emotions to life through your greeting card in an even more beautiful way?
A video greeting card lets you do just that! It enables you to send a card via mail with heartfelt video messages on it.
2. Send a video card online
In a time when digital greetings have become the norm, pause and consider a more heartfelt way to connect—the kind that goes beyond mere words on a screen.
We all know and understand the feeling of sending and receiving the usual free e-card. It's a practical and convenient alternative to sending a greeting card because you can get and send a virtual card for free online. But it often lacks sincerity and a personal touch.
But sending a greeting card online with a QR code containing your voice or video messages makes your card more heartfelt—even when it's only digital.
GiftLips: Send a video message card to pair with your gifts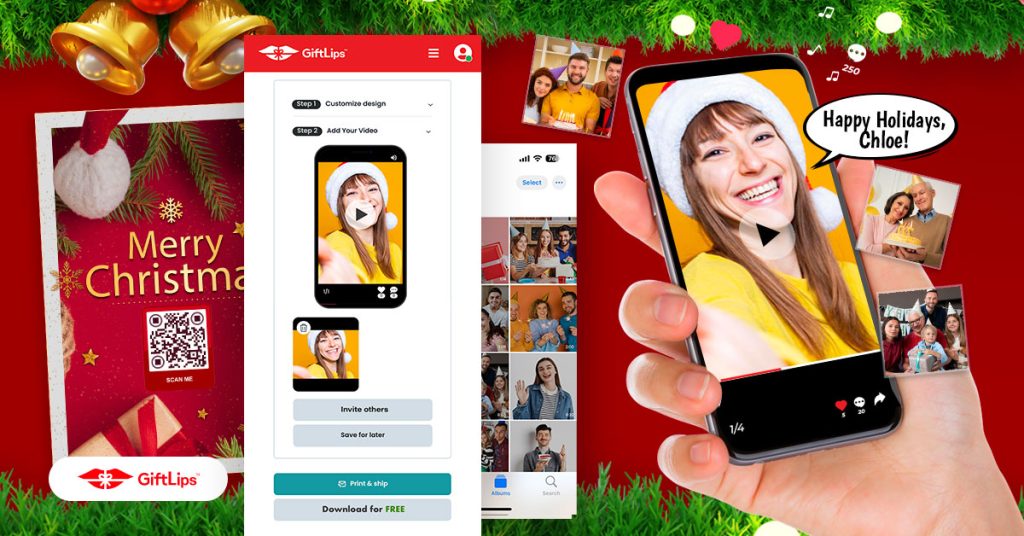 If you're looking for a free online greeting card generator that lets you personalize your cards into meaningful keepsakes, check out GiftLips.
It's a printable card generator that lets you add videos, audio, and photos on a QR code on your greeting card, allowing you to send your greeting card online or offline.
Imagine holding a cardstock Christmas greeting card, feeling the texture beneath your fingertips. Then you'll find a QR code that tells you to scan, and with anticipation, you do just that.
With one scan, you see a video of your long-distant best friend speaking directly to you through your screen.
You hear their voice and their genuine Christmas message, which feels like a warm virtual hug that transcends the digital barrier. You're not miles apart in those precious moments but connected heart to heart.
In a world of instant messages and fleeting interactions, your custom video greeting card is a tangible reminder of your bond. It's a keepsake you can enjoy whenever you need a reminder that you're cherished.
How to make a video greeting card
You can make a greeting card with special videos from you and your loved ones in less than 5 minutes. Here's how to make a video greeting card in 4 easy steps:
1. Choose a greeting card design
Browse through Giftlips' online library of greeting cards.
Choose a card you want to customize and tap Use this Template.
Then, tap Next.
2. Add solo or group video greetings
Tap Record Video to record your video messages directly on your phone.
Or tap Upload Videos to add images from your device.
Invite friends and loved ones to add their messages by sending them an invitation through the Invite Others button.
Note: Aside from videos, you can add other digital files, such as photos and audio.
3. Preview videos
Tap Generate Preview for a sneak peek of how your videos will look on your cards.
4. Save your card
Tap Save for Later to save your card for editing, downloading, or shipping.
How to send a card via mail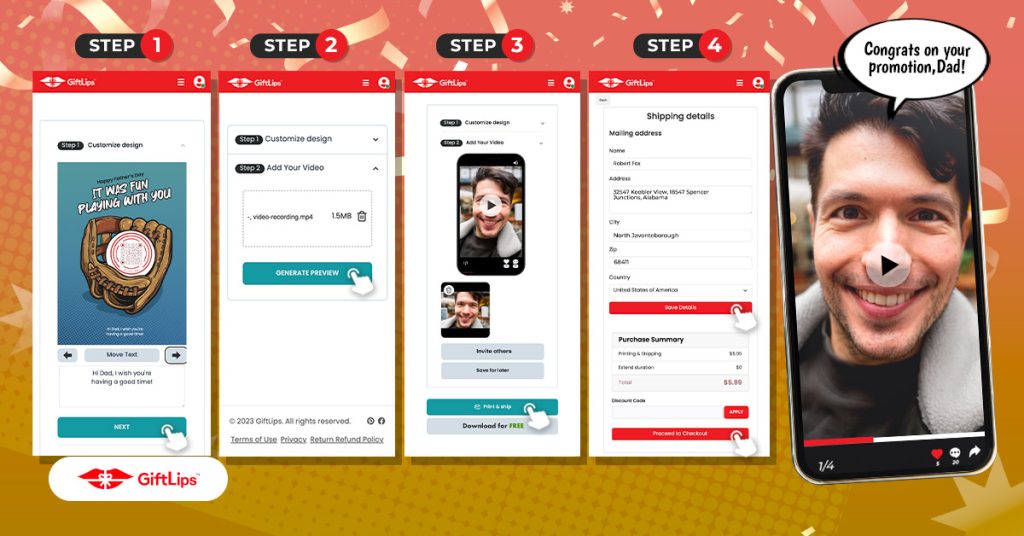 For recipients who prefer to receive a classic greeting card in their mailbox instead of an e-card with a video message, you can send a video card as a cardstock version through the mail. Here's how:
1. Create a card
Start by choosing a card, then add your videos. Follow the steps presented above to create your greeting card.
2. Select Print and Ship
Then, tap the Print and Ship option.
3. Add a mailing address
Fill out the shipping details box with your or your recipient's mailing address.
Then, tap Save Details and tap OK on the pop-up dialog box.
Make sure that your shipping details are correct, and tap Next.
4. Proceed to checkout
After reviewing your order summary, tap Proceed to Checkout.
Enter your contact details and payment information, then tap Pay.
How can I send a video card online for free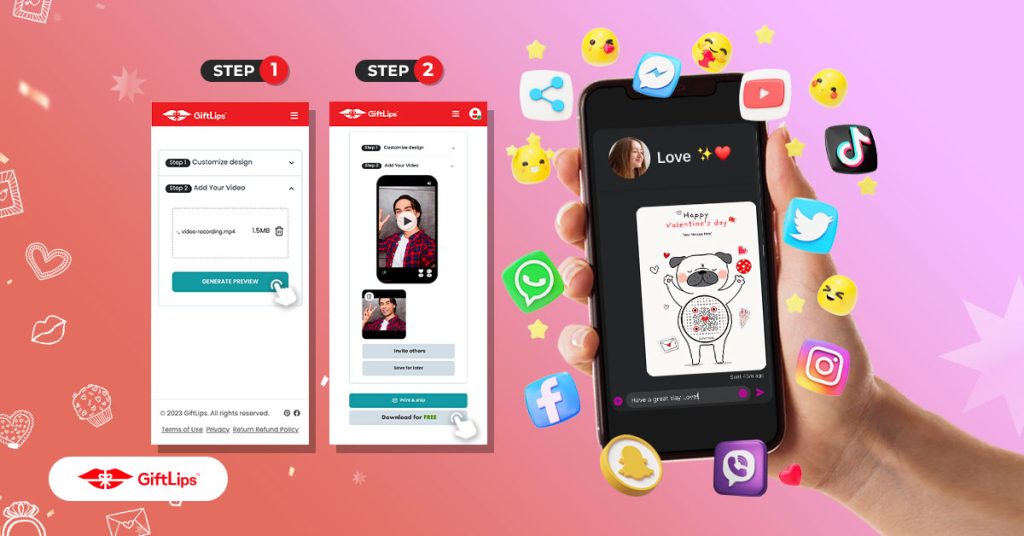 A free e-card is a quick and budget-friendly way to send a video message to a loved one. Here's how you can make one using a free greeting card generator:
1. Create a free e-card
Choose a card design, add videos from you or your friends, and generate a preview of the videos on your card.
2. Download for free
Then, tap Download for FREE to save your card as a PDF file on your device.
3. Send your card online
Choose and open your preferred messaging or social media platform.
Then, look for your PDF greeting card file on your device.
Send your video messages as greeting cards that your recipients can keep
It's now possible to send a video card to your loved ones with video messages that hold the unique power to convey emotions deeply.
Spoken words, exchanged laughs, and shared memories create an impact that goes beyond text. Video greetings and messages build stronger bonds by allowing recipients to experience your greetings through their senses rather than just reading them.
Opt for cardstock greeting cards that you can send via mail, with a QR code revealing your heartfelt video message—a delightful surprise in their hands. Alternatively, choose e-cards for instant online delivery, blending the personal touch of video with digital convenience.
Create unique cards with a free online greeting card maker by adding photos, videos, and voice messages. Elevate your greetings, showing that each connection matters.
Choose the extraordinary and make your video greetings last with GiftLips today!
Share to social media