9 Ways to Use a Video Greeting Card for Your Business
Last Updated: September 22, 2023
Share to social media
Engaging with your customer is a must. A video greeting card for your business is a new and innovative way to engage with customers and build your brand.
The usual printed ad materials like leaflets, business cards, or brochures (let's be honest) end up in trash bins most of the time because they don't provide any value to our lives whatsoever.
A video greeting card is one great medium to promote your brand without being too promotional. You can add videos to your greeting cards to make them more personalized.
Include a greeting card with videos when you send gifts to customers, influencers, key opinion leaders, etc.
What is a video greeting card
A video greeting card is a type of greeting card that incorporates short-form videos and audio along with text and word greetings. You can make them as an e-card or a printed greeting card.
Using a dynamic QR code, this greeting card has become a bridge between the traditional world of sending actual greeting cards and the modern world of sending multimedia greetings.
Now, you can do both! You can send a printed greeting card with videos in it.
The rising popularity of short-form videos among marketers
Short-form video content is anything short enough to keep the viewer's attention but long enough to get your point across interestingly. You can use short-video content as ads, reels, or greeting cards.
Unsurprisingly, successful brands like Adidas, Sephora, KFC, etc., used short-form videos, specifically on the video-sharing app TikTok for B2C and B2B campaigns. In fact, 74% of B2B marketers said that video has a better return on investment than still images, and 91% believe that the pandemic has made video more critical for brands.
It is also worth noting that most short-form media consumers are Millennials and Generation Z, with a combined spending power of $350 billion and a short attention span. Also, thanks to Millennials and Gen Zs, the greeting card tradition is experiencing a rebirth.
The brand-building landscape is rapidly evolving to accommodate the needs of the customers. Hence, building your campaigns on how customers consume media is essential. To create a solid brand, you need to be everywhere: on TV, on social media, and, surprisingly, on greeting cards.
What greeting cards with videos do to your brand
Greeting cards with videos offer more creative freedom than regular greeting cards because you can customize them according to your brand. It's also easier to build a connection with your customers because you can directly express your campaign message through videos.
According to studies, 90% of the information transmitted to our brain is visual. Hence, videos are an effective communication method, as they quickly grab your customers' attention. They are more engaging because videos are more immersive than just text alone.
A greeting card with a video is not just a greeting card. Connecting your brand with your customer can lead to loyalty and a stronger brand.
9 ways to use a video greeting card for your business
1. Branded greeting card or advertisement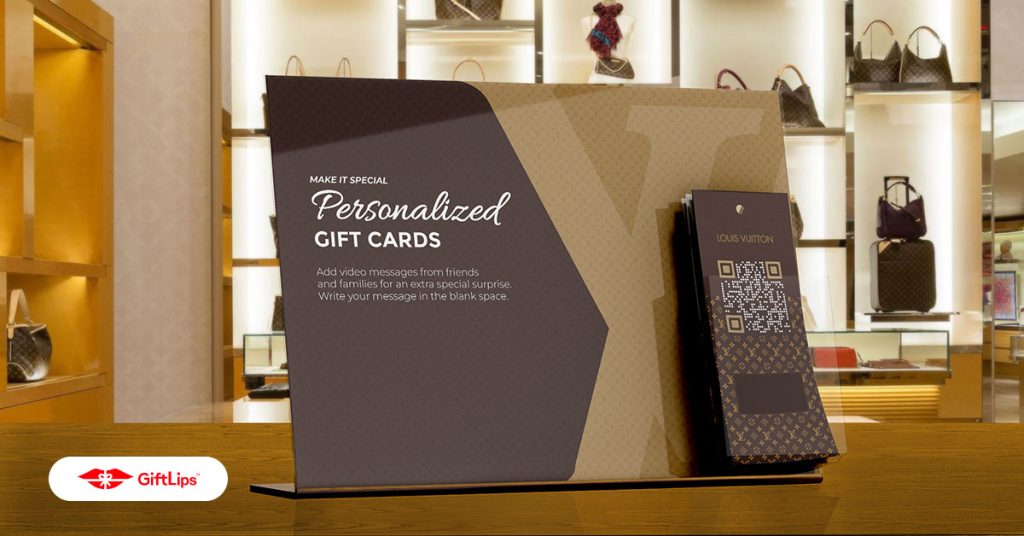 Everybody loves to receive something from their friends. So why not take this opportunity to advertise your brand? Offer your fans a well-designed branded greeting card they can proudly give to their loved ones and encourage them by offering discount vouchers and promo codes.
Make your branded greeting cards available for customers buying your products as gifts. This not only enhances your branding but can also create a new revenue stream. You can offer greeting cards as an add-on or complimentary gift purchase.
Having a unique greeting card with your brand is a helpful way to let the gift receivers identify its authenticity. And it's also the perfect greeting card match for your product. Imagine giving a classy bag with a tacky card…yikes!
2. Behind-the-brand cards
Create a strong brand image and connect with customers by setting up behind-the-brand cards inside your store.
Feature the mission and goals of your brand, why they're important to you, and what you're doing to achieve them. Bring out the human side of your company by sharing in-the-know insights and short clips from behind the scenes.
By showing the intimate parts of your product or service, you can establish a personal connection with your customers, build loyalty, and more effective brand recall.
3. Product showcase, tutorials, and care guide
Introduce your new products in a new and edgy way by creating a feed of short-form videos on a greeting card.
Highlight the features and specs of your new product, create how-to tutorials, and add a care guide in short, comprehensible videos.
4. PR Packages and influencer kits for key opinion leaders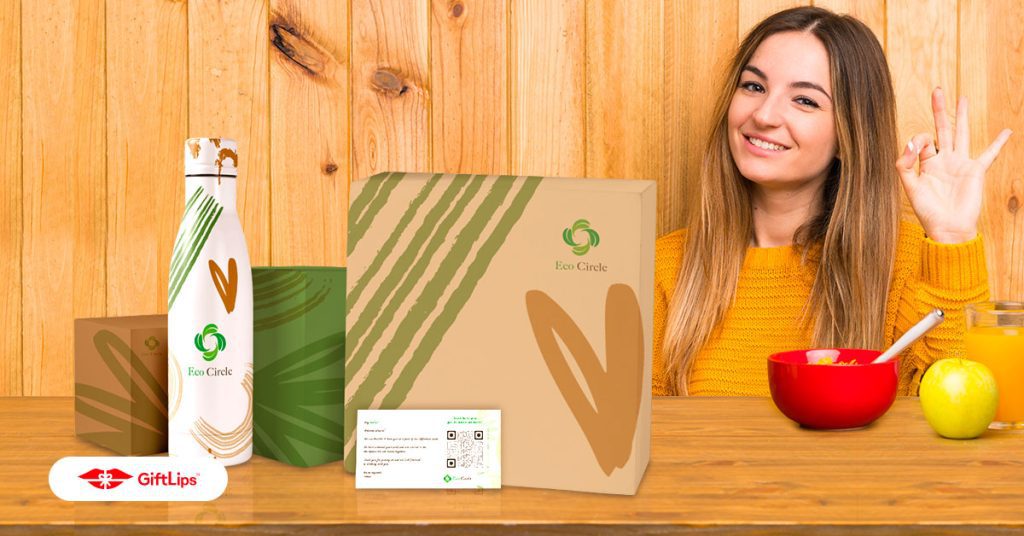 Approach key opinion leaders (KOLs) and influencers in a fun and ingenious way to leave a lasting impression on your brand.
Working with them can make reaching new audiences much more accessible and turn them into paying customers.
Sending a greeting card with videos and PR gifts is one way to stand out amid the tough competition in the market today.
5. Loyalty gift campaigns
Send your loyalty and thank you gifts to your customers with unique greeting cards to make brand recall easier. Adding a personal touch to your gifts, like a personalized greeting card, can make any customer feel valued.
Loyalty programs and gifts are essential to building customer relationships. They make your brand more appealing, help you develop and maintain a connection with your most valued customers and partners, and facilitate brand loyalty.
6. Thank You cards
You can create different types of Thank you cards with videos, like one you can give after major purchases, after your brand events, for making a donation, for a customer account anniversary, etc.
Adding an appreciation card to every purchase is trending in small businesses or start-up brands as they add a touch of sincerity when expressing gratitude.
7. Events invitations and RSVPs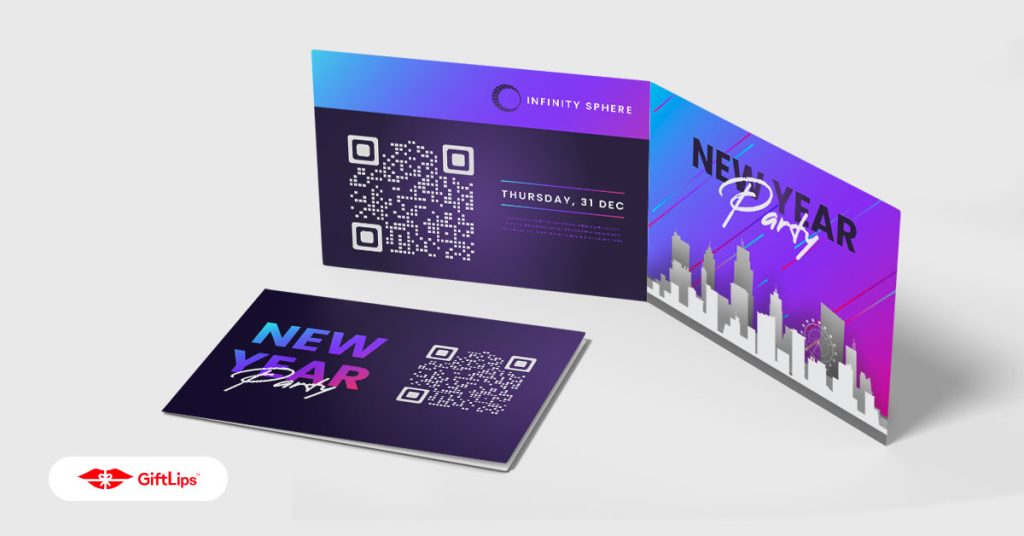 Events are one great way to promote and create buzz for your business. They help create a unique and memorable experience that help customers feel connected to your brand. Done right, you'll get a lot of organic reach as people share it with their friends, other businesses, and potential customers. And the invitation card is one of the most exciting parts of a brand event.
Popular creative invitation cards by big brands are Kanye West's anorak for the presentation for Yeezy's Season 1, Virgil Abloh's wall clock for Louis Vuitton, Michelle Alessandro's giant plaster head of Hermaphroditus for Gucci, etc. Now, imagine pairing a video invitation card with your creative invitation. You can show them a sneak preview of the event to build more hype and anticipation.
8. Holiday greeting cards
Holiday cards, like Christmas greeting cards, can make your customers happy, put them in a good mood, and make them feel important. This is crucial because emotions are a big part of decision-making. 
Brands use Joy Marketing to connect with customers and convert them into brand-loyal patrons. And sending customized or creative holiday cards can appear as an act of kindness that links your business to a positive feeling.
9. Birthday greeting card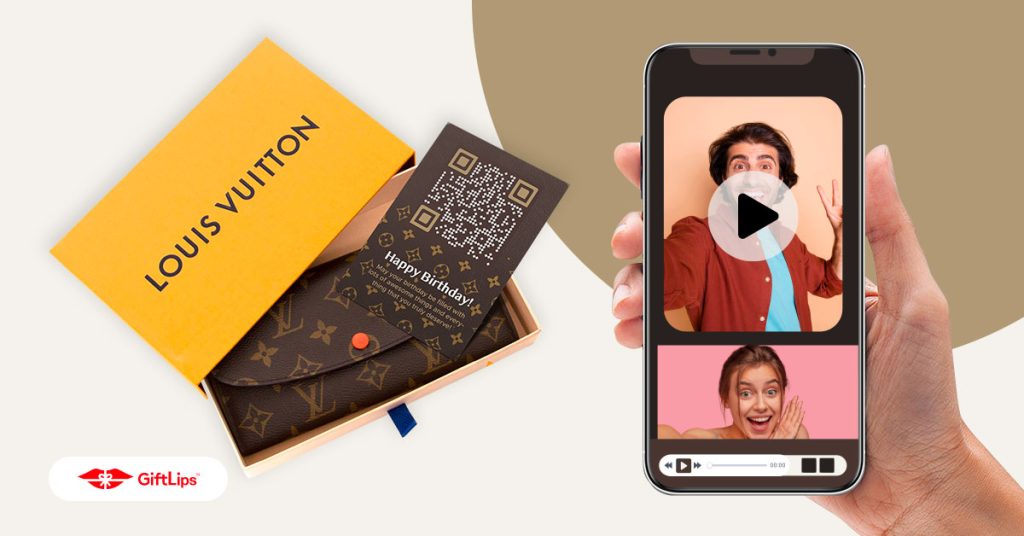 Greeting cards are an excellent way for your brand to show customers you genuinely care. It's more personal than texting or emailing. Like a holiday greeting card, it helps build loyalty and strengthen the relationship between your brand and customers.
By sending a physical card to your clients, you can be sure your message won't get lost in a sea of emails or the dreaded spam folder. Even so, your cards shouldn't be boring. You can add a splash of fun to your cards when you add video greetings.
GiftLips: A video greeting card generator for your brand
GiftLips is an online greeting card generator that creates cards with videos not only for individual customers but for brands as well. Through this generator, you can make greeting cards that you can print. That's right, PRINT!
You can add multiple videos through a dynamic QR code on your greeting card. When scanned, your customers can access a feed of various short-form videos. GiftLips is the only video greeting generator that allows customer feedback on your videos through "likes" and comments.
Build a powerful brand and improve customer engagement through videos on your greeting cards
A video greeting card tells your customers that you know, appreciate, and care about them. It helps you establish a relationship that goes beyond being just a brand.
Use a video greeting card for your business to subtly engage with customers and boost brand recall without tacky and annoying promotional ads.
For a limited-time offer, you can sign up for GiftLips for free today!
Choose from over 100+ template designs, or let our professional graphic designers help you create a greeting card that fits your brand.
Want GiftLips for your business? Contact us!
Share to social media