Video Message Card: Elevating Greetings and Messages Through Videos
Last Updated: August 20, 2023
Share to social media
A video message card lets you say more than what you could write in a regular message card. Through this unique way, your recipients will find your message more sincere and thoughtful.
You can use them for all sorts of occasions, whether simple or grand. It's the perfect must-have item when you feel like expressing your heart.
And what's even better about this is you can create one video greeting card in just minutes for FREE! No hassle and no hidden charges.
If you want to learn more about this creatively innovative idea of a message card, we've created this guide to introduce how you can use and create them.
6 Reasons why personalized video cards are a great idea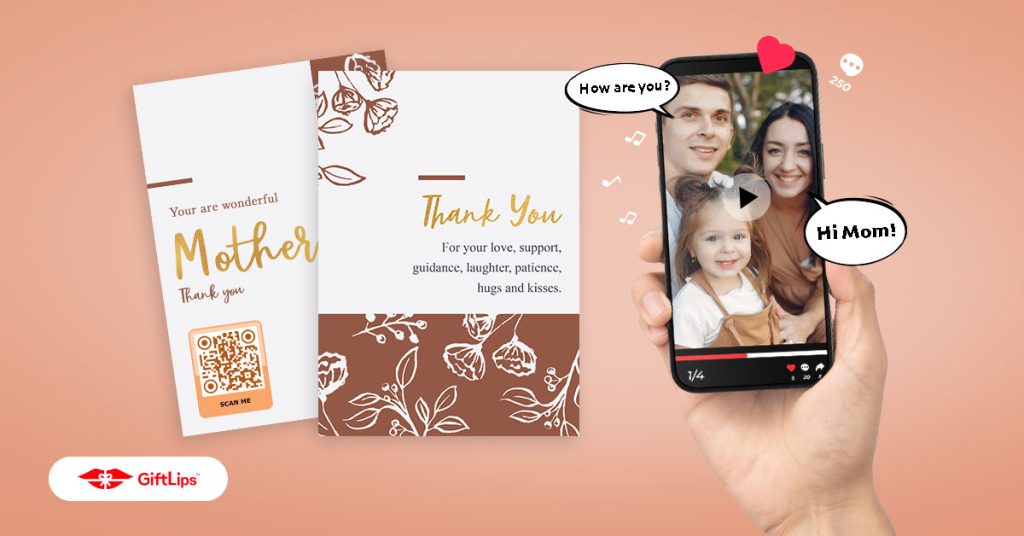 Modern meets classic—that's how you best describe message cards with videos.
So, it looks like your typical flip-through card with printed designs, but elevated with a more personalized touch like printed and video messages.
And here are the reasons why it's a lot better to give than ordinary cards:
1. Available designs and templates at your fingertips
We know how much of a hassle it is to go out and buy greeting cards at gift shops, purchase one online and wait for the shipment to arrive, or customize one of your own even when you don't have the artistic skills to do so.
That's why software for a video greeting card online made it a lot more convenient. You can choose from over a hundred designs suitable for any occasion, customize them anywhere and anytime, and have them printed out without delay.
2. Customizable video greeting card without the artsy mess
Since all the magic happens online, you won't need to get all messy with the artsy stuff. Yes, you can customize all you want on the website without compromising the quality and the intent of making your message card intimate, fun, or elegant.
3. Includes scannable QR code for your vids
If you're wondering where to store your video messages on your card, here's the answer: QR codes.
Your greeting or message card templates comes with a dynamic QR code pre-attached to the designs. And this is where your video or even audio recording are embedded.
It's very accessible, too; you only have to scan the code with your smartphone to view or listen to your uploaded digital message.
Now, that's a different level of personalization right there. This will quickly make your recipient all hyped up when they receive it.
4. Provides the option to send a video card to recipients
Got no time to drive to UPS, FedEx, or USPS to deliver your cards? Worry no more. Greeting card makers online now provide you the option to send digitally made cards directly to your recipient's shipping address.
This is a life-saver for people seeking last-minute gift ideas for their loved ones living miles away.
5. Paperless option for a techy person
Unless you're going to save and print out the customized message cards, then you can ensure a paperless greeting for your friends or families.
How? You can send greeting cards to your receiver's social media, email, or other online messaging platforms.
6. Encrypted information for safe usage
Creating online cards is convenient and safe. With strict data encryption policies, online card makers protect and keep your personal information confidential.
So, for instance, you're entering shipping address or billing information to send a video card, all the personal data and encoded directly into the system and protected them using international security policies.
7. Offers collaborative options
Let's say you have friends or family members who also want to send video messages to your recipient but find it troublesome to create a different card. We have great news for you: You can send the link to the greeting card you are working on so they can access it.
Immediately, they can upload or add their own video or audio messages to your card's QR code. And yes, you can store multiple videos into a single QR code without hassle.
Epic ways to use video-based message cards today
You'd be surprised about the multiple ways you can use your personalized video cards. To give you some ideas, we've listed the best ways to make any celebration memorable with your video cards. Here's what we got:
1. Intimate message cards for anniversaries or weddings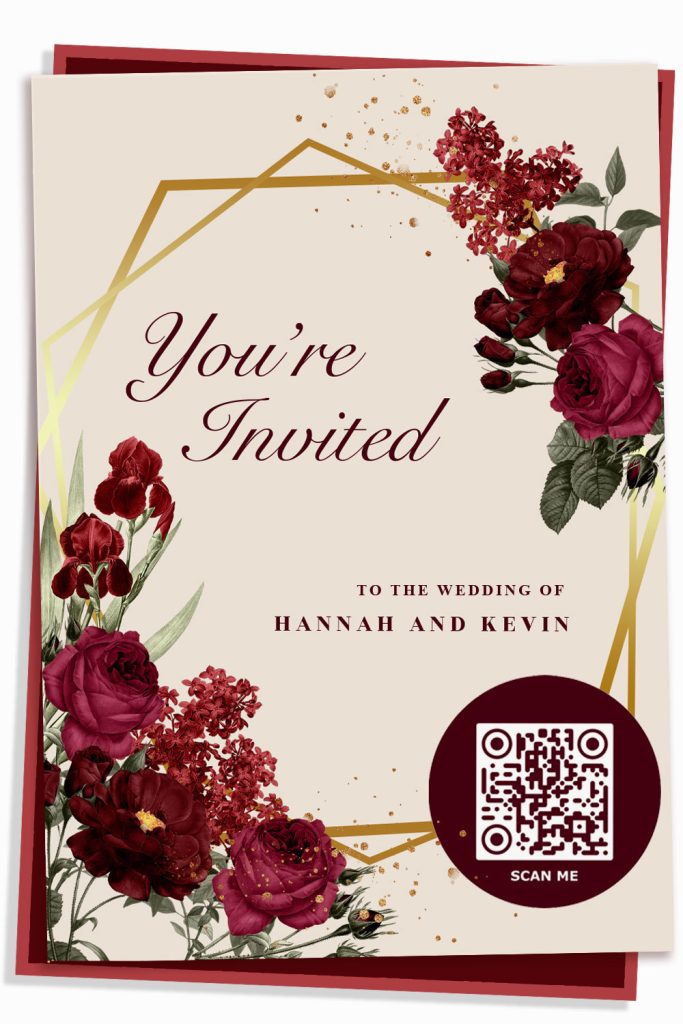 When giving intimate greeting cards to your significant other or loved ones who recently tied the knot, we don't want to settle for low-quality message cards.
We want it to be simple yet elegant and intentionally sentimental. This is where video message cards come into view.
It's the perfect way to send out your love, support, and heartfelt messages in the most intimate way possible.
You can pour all of your emotions, show all the love and support, and even tell some funny backstory to the couple, all through a video message that you can embed right into your cards.
2. Personalized greetings for birthdays
Send off the fun at the party through customized digital video birthday cards. With the QR code technology integrated into the card's design, the birthday celebrant will have no trouble viewing your video messages.
Now it's a lot easier to send out goofy behind-the-scenes recordings of the celebrant, a compilation of birthday video greetings from family and friends, or even a simple tribute video to the birthday star.
You can always ensure you gift them the most unforgettable and valuable item yet.
3. Celebratory video message card for annual occasions
New Year's, Christmas, Hanukkah, or even Spring Festivals won't be complete without greeting cards shared around the household. If this has been a long-lived tradition for your family, then it's high time you introduce something modern but still classy.
What's even better is that with the right online card maker, you'll find festive and creative card designs suitable for celebrations like the ones mentioned.
So, you've got a one-stop website to create all your greeting cards year-long.
4. Customized get-well-soon cards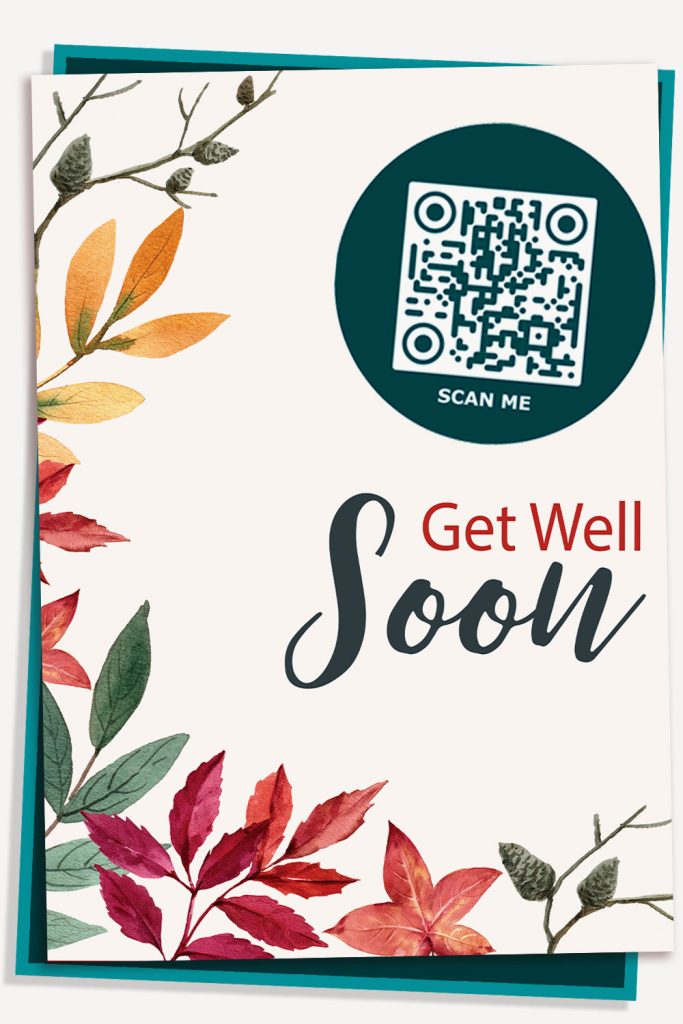 While you can send get-well-soon messages to a sick loved one through SMS or social media, we guarantee that nothing still beats the old-school message card tradition.
You can easily make your loved one feel supported in their journey to wellness through greeting cards that usually come with a fresh bouquet or a basket of fresh fruits.
But here's an even better idea: generate a video-aided greeting card with some extra personalizations here and there. Guaranteed, this will put a bright smile on their face.
Just imagine receiving such a card while you're bored in bed. Surely this will lift their spirits and make them want to keep moving.
5. Last-minute gift ideas for special occasions
Got too busy with school or work and forgot to buy something to wrap for the upcoming Mother's Day? Well, worry no more because a digital greeting card with videos only takes 5 minutes to make.
It's your best partner for any last-minute gift ideas for special days like Father's Day, Best Friend's Day, or even Pride Month.
All you need for this is your phone or laptop, a decent internet service, your video message, and there you have it—your DIY digital greeting card. Plus, you can make them for free. That's what's up.
6. Commemorate life's milestones with a video messages
Sometimes a simple Congratulations or Kudos isn't enough to let our loved ones know how proud we are of their achievements. Even a toast and a cheers don't suffice.
We always, ALWAYS want to say more.
This is where a video-based message card comes in handy. It's easily customizable, printable, and shippable at your fingertips!
And while you can write or type in short messages on the page, you also have the option to say more.
The video QR code embedded in the design will also help you store and hide your expressive messages from plain sight.
Browse for fun and sophisticated video card designs at GiftLips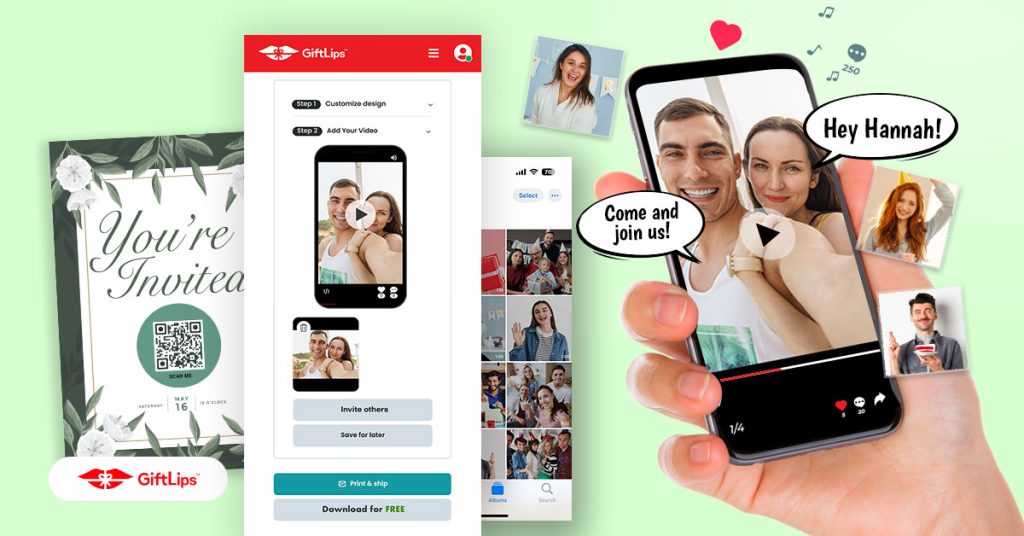 Now that you have ideas on using a customized video card, your next step is to search for the best card maker online. But really, there's no need to look any further.
With GiftLips, you can make even better custom video greeting cards like no other. This is different from the usual e-cards that you can simply send to various social media platforms. Unlike most card makers online, GiftLips cards allow you to save them on your device, print as a physical card, or even ship them out for delivery.
We also offer you hundreds of card templates fitting for any occasion.
Looking for greeting cards for New Year? We have them. How about for birthdays? Invitation cards? Congratulatory cards? Simple day-to-day cards? You name it; we have it.
And yes, the designs also include a customized QR code to embed your video or audio messages.
Your loved ones can quickly scan the QR code using smartphones to open and view the encrypted message. It's that easy.
But if you think the fun and goodness stop there, think again. GiftLips allows you to customize, create, and print your cards for FREE! That means no tax and no hidden charges for you.
How to make a video message card with GiftLips
So, you now know where to find the best customizable greeting cards. Right now, the next thing to do is to understand how to create one.
Launch GiftLips on your devices and then follow these easy-to-follow steps:
1. Pick a design or template
Browse and select a design or template that suits your celebrating occasion. Click the Use this template button to choose.
2. Enter your message
Type in a short message in the space provided. This is also optional for your card template.
3. Upload or record your video or audio message
Tap the Upload Videos button to add or upload your videos.
Click the Record video or Record audio option to start recording on the website if you have not recorded anything yet.
4. Save, print, or ship to your recipients
Select Print and ship to deliver your greeting cards to your recipients.
Click Download for free to save a digital copy on your device.
Make your loved ones feel extra special with GiftLips
Whether celebrating anniversaries, holidays, birthdays, or sending a simple Thank you, I'm sorry, or Congratulations, gifting your loved ones with a custom-made card is always appreciated and adored.
They offer great intimacy, giving off a more personal approach than just sticking to handwritten or store-bought cards.
Your video messages embedded on the cards expresses better than anything else: your voice is heard, your expressions seen, and your intent viewed clearly. There's no better way to offer sincerity than with a video message card.
Discover the best video greeting card templates at GiftLips to create the best message card yet. Sign up and make your cards for FREE!
Share to social media